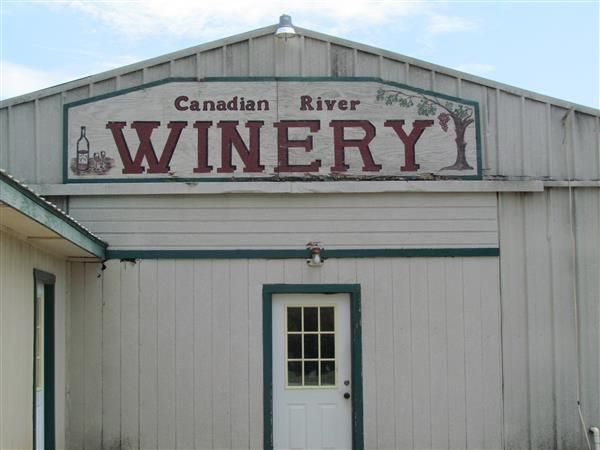 The Canadian River Vineyards and Winery is located on Hwy 77 just South of Noble, in the very heart of Slaughterville.  A vineyard in Slaughterville, who would have thought?  We pulled into the parking lot that had a few cars, kids running through the sprinklers and some old guy parking a John Deer mower.  It had that sleepy, Saturday afternoon look and feel.  Tom Joe and I made our way into the main building that housed the office and tasting bar while Elizabeth and Miki wandered off to the side to check the vines and patio.
 Well, we all made the rendezvous in the tasting room and met the vintner/owner Gene, and his able assistant, grand-daughter Taryn.  Much to my surprise, Gene was the old guy on the John Deer that I had spotted out front.  While he was washing his hands,  Taryn began explaining about the variety of wines we would be sampling.  Turns out they offer 14 different wine blends and four different types of pure grape juice.  I have never been to a vineyard that offered the juice for sale.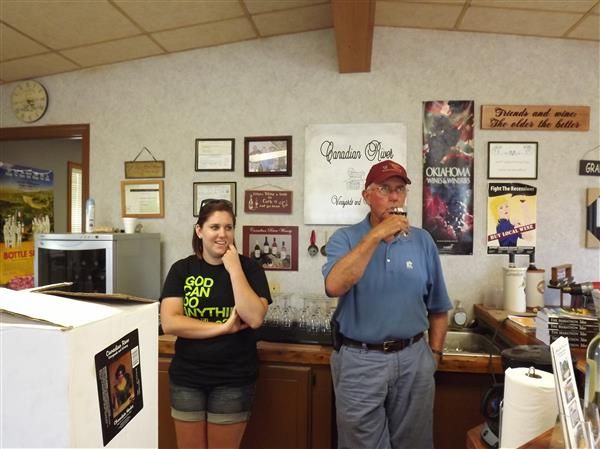 Gene made the scene at the bar, grabbed a glass of his best  for himself, and Taryn was relegated to the job of bartender. He, Master Vintner and grower, explained in detail the operation he had going here.  After learning the trade in California and graduating from Texas A&M (judgement on THAT would wait until after we sampled his wares), his operation in Oklahoma had started as a hobby when there were only three vineyards in Oklahoma.  Now, 25 years later, there are over 60 vineyards in the state and Canadian River is still fun for him.  We should be so lucky in what we do.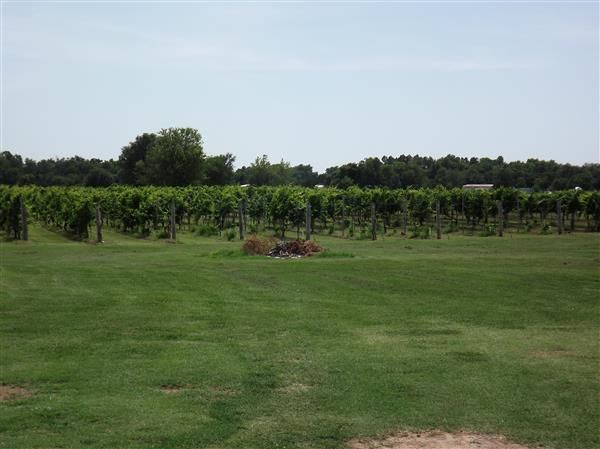 I was surprised to find out that Canadian River has only eight acres of vines at the main vineyard, but an additional seven acres up the road somewhere.  His vines are about 13 years old and together they produce the grapes for 90% of his wines which he bottles at about 4,000 cases a year.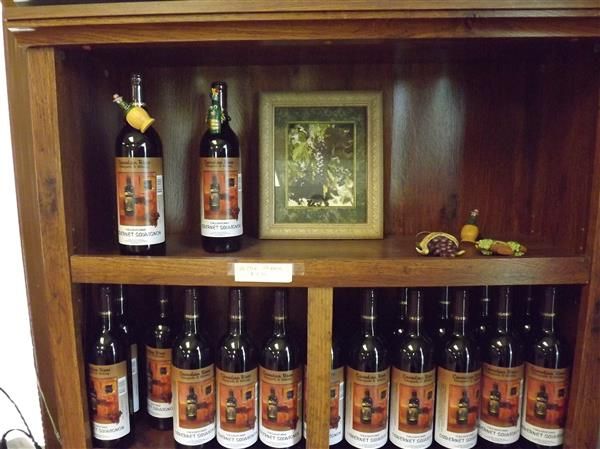 Now to the business of tasting!  We sampled all 14 varieties and they were all good wines.  However, the Cabernet, Muscat Canelli and the Chocolate Merlot were just excellent.  Elizabeth and I bought a bottle of each and plan to keep them for ourselves but, you know those in-laws with empty cups will show on the weekends!  (I need new locks.)  The tasting was so enjoyable and the conversation, though stilted at first, flowed in a much more relaxed manner after Gene found us to be truly interested in him, his operation and the wines.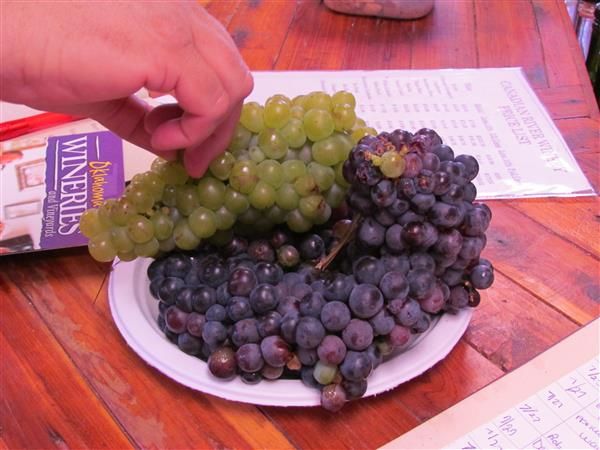 One thing I found most curious was a bowl on the bar containing two huge clusters of grapes.  I asked Gene if they were real and he told me he had picked them to nibble on just a few minutes before our arrival.  They were small grapes but so tightly clustered that you had to force your fingers into them to grab one out to taste.  Being used to grape bunches from the market, I asked Gene to explain the density.  He informed us that all grapes grew this way and that the spacing on the market bunch came as a result of some sort of chemical sprayed on the bunch that eliminated about 50% of the fruit.  (Hmmm.  I am an organic kind of guy so this will require some thinking on my part, I tell you.)  Well, Canadian River grapes were damn tasty.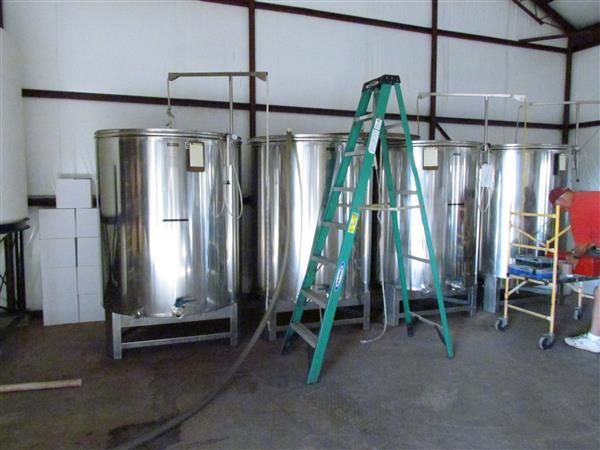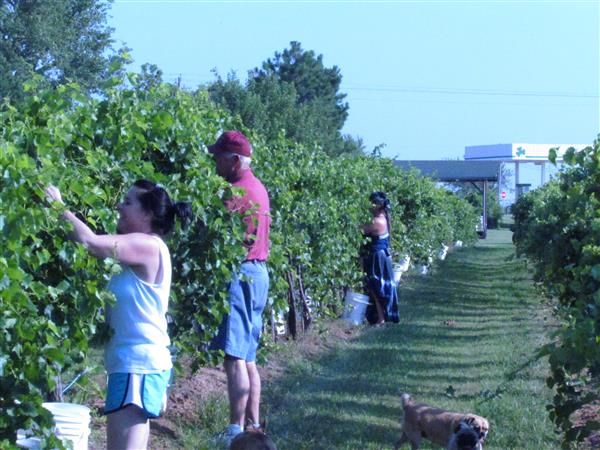 After the tasting we went for a tour of the facility.  Everything was being readied for the harvest that was to begin on the next Monday so there was plenty of cleared space to look around.  Small and tidy, but obviously a place ready for some serious work.  Stacks of harvesting buckets, hoses, testing equipment and assorted stuff.  Pretty cool to see.  We got invited to come for the harvest, with Miki and I being the winners of the coin toss.  If you haven't been to one, you really should go.  Grape vines are TOUGH to work with and there is a significant amount of grabbing and pulling going on.
So then, Canadian River Vineyard and Winery.  Small but a real treasure that is easy to find.  Gene and Taryn will cheerfully fill your glass with some fine wine, and you with information about the place.  It is one of my favorites, and since the "winers" get together in Norman quite often, I will be suggesting that we head out there in the Spring to sit on the patio, watch the vines come to life and kill a bottle or two.  I'll even brown bag a barley pop for Tom Joe.
Don't forget, this is just my opinion and I would really like to have you pop out to Canadian River, sample Gene's goodies and then let us know what you think.  You just never know where a Trail is going to lead us, so keep an eye out for our blogs and tweets, and if you get a chance, join us for a taste of goodness and some lively conversation.  Where we meet is up to you, but be sure there will be a place for my elbow on the bar.
Come.  Join us on the Trail!