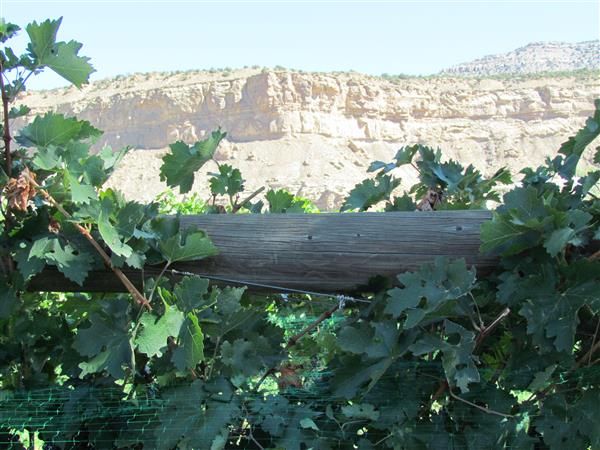 In my opinion, Canyon Wind Cellars was by far the best vineyard visit of our Colorado trip.  I warn you now, this blog may be long because there is so much to tell!  From the amazingly gorgeous vines laden with plump fruit, to Mount Garfield so close you felt like you could reach out and touch it, to the wonderful tour and barrel tasting that we received, to hitting just the right time to witness the owners cleaning out the fermentation tanks, and finally to the tasting room hostess being almost as brilliant as their wine….gonna make for a long blog, isn't it!  Here we go… Although we started off in the tasting room, I am going to save that description for the end.  I feel it is most appropriate to describe the other experiences first since the culmination of these experiences in actuality make up the first-class status of their wine.
So let's start with the tour!
Stacy was our tour guide and resident expert of the winery, wine making, vineyards, etc.  Stacy has not been in this industry long, but has really done an amazing job of soaking in any and all information she can in order to become the expert.  I was very impressed with her knowledge and confidence, and the excellent job that the owners, Jay and Jennifer, have done teaching her about the industry. Stacy began the tour by taking us out in the vineyards.  We learned that Canyon Wind produces about 5,000-8,000 cases per year all estate grown.  
Apparently, a man named Juan, whom we did not get to meet, is in charge of the vineyards.  They are soooooo gorgeous and well tended.  I vote for a raise for Juan!  We also learned that planting on this vineyard started in 1991 and that they currently have about 35 acres.  The name of the vineyard comes from the year-around wind blowing out of De Beque Canyon.  This wind protects the vines from the summer heat and from the cold, winter frost and has been termed by the founders as the "million dollar breeze".  And I'm telling you, I have been to many vineyards and have never seen such lush, plump, tight clusters, and oh so sweet!
Next on our tour we happened upon the owners, Jay and Jennifer, cleaning out the fermentation tanks.  During our tours throughout the years we have seen many steps in the wine making process, but this one we had somehow missed.  It was simply dumb luck on timing that we happened to be there walking through when Jay was emptying the wine and pomace from the fermentation tank.  Without question we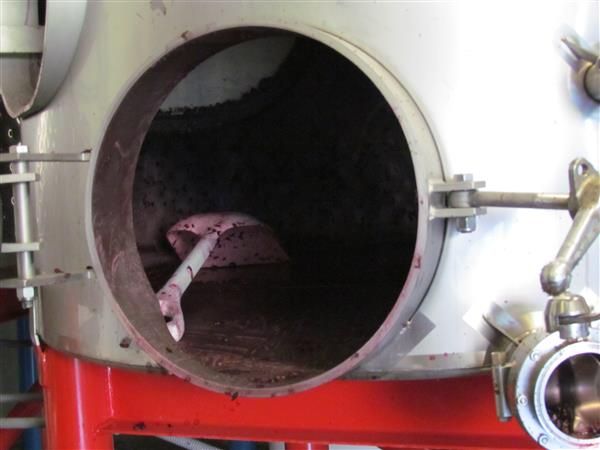 had to stop a spell and learn first-hand and up close.  For instance, I said "juice" and Jay corrected me saying that the "juice" was now "wine".  Oh, faux pas! 🙂  Thanks, Jay! I am ALWAYS up for learning!  I had no idea what really happened once the juice had turned into wine, other than put in a barrel or tank to age, but never considered all the cleanup.  While Jay used his "man muscles" to shovel out the pomace, Jennifer used her "girly physique" to climb into the fermentation tank (hope she's not claustrophobic!) to wash it down on the inside.  I'm very thankful to Jay, Jennifer and the staff for allowing us to watch them during this process.
Next stop was the fully submerged cellar.  With the first step in you are just overwhelmed (in a good way) with the oaky smell!  Yummmm! I learned a lot during this portion of the tour and I only hope that I get it correct for you in this blog.  The cellar floor was specifically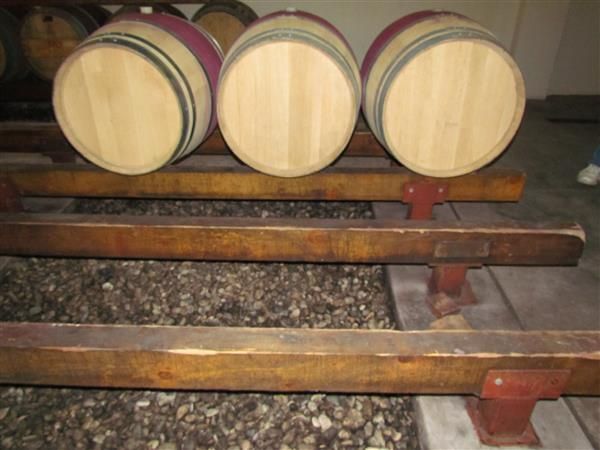 designed, with gravel layer over the open earth and then boards (like railroad ties) spaced out perfectly for a resting place for the barrels.  Stacy told us that by designing the cellar in this fashion it allowed the humidity to come up through the gravel which is important to keep the barrels in good condition and not brittle and dry.  In addition to the open floor, by being completely underground, the room stays cool all year long naturally – and I'm telling you, it was a bit cool down there!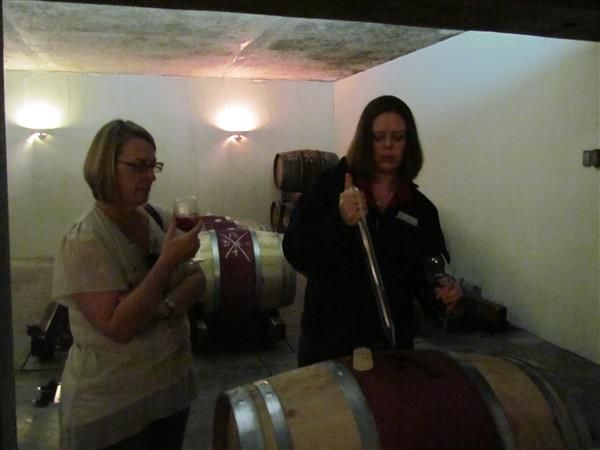 Stacy gave us a treat and did some barrel tasting with us (always fun!)  So, don't know if everyone gets this special treatment or if it was just us because we were writing a review/blog on them, but we got to barrel taste "IV".  What is "IV", you ask?  Well, it is their specially processed wine that they charge the price of $100 a bottle.  Apparently they are the first in the area to have a $100 bottle of wine, they produced 150 cases and it is all sold out! Why is this wine so special?  Well, the vines are culled more often than others, hand pressed, and are treated with an extended cold soak, or so I'm told.  Might there be more to the processing of this $100 bottle of sold out wine?  Perhaps, but that is the information I was given and wrote down. 🙂
Also in the underground cellar they have a newly constructed "library".  Very sophisticated!  This is where they lay down their best wine, or perhaps one of every vintage, I'm not exactly sure, but they lay it down to save for the future or that very special event.  Apparently they also have special events in this room – it's small but yet large enough to accommodate a small gathering.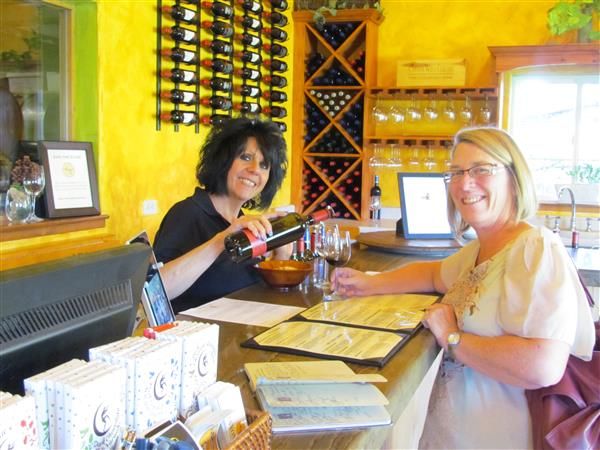 Now to the Big Kahuna!  The wine!  Pam, our tasting room hostess, was fun, very knowledgeable about the wine and a model employee and advocate of the winery.  We enjoyed spending time with her immensely!  So here's the deal…their wines were amazing!!!  They have three different lines to choose from.   The first is their 47-Ten Series which is named for the elevation of their vineyard (4710 feet above sea level).  Quite original, huh?  We were only able to taste one in this series because the other two were sold out.  The 2011 47- Ten Red I thought was quite smooth and full flavored, gave it an "A" and bought a bottle!   Next is their CWV Varietal Series.  These were yummy too.  My favorites here were the 2012 Sauvignon Blanc ("A"), 2012 Chardonanny (stainless with 9-months of oak staves) ("A"), 2007 Cabernet Sauvignon ("A") – smooth with medium tanins, 2010 Petit Verdot ("B") – smooth, very full, deep flavors.   Their final series is their Anemoi wines and what an interesting story herein lies.  Anemoi were the mythological Greek Gods of wind, and the wine is therefore dubbed with this Brand due to the winds in the canyon.  They have four wines in this series.  Unfortunately, we didn't taste them all.  I was starting to feel a little bit greedy wanting to taste every one of their wines so we simply picked a few.  The first is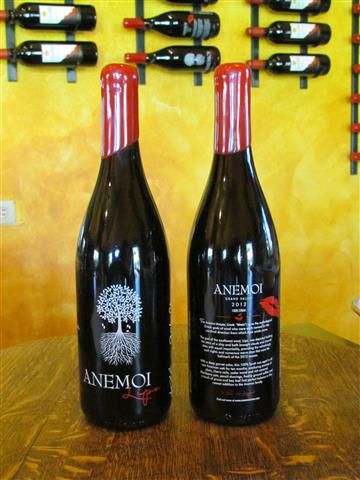 Apeliotes, which is the God of the southeast wind.  This wine we did not taste, but is a blend of Cabernet Sauvignon, Syrah and Petit Verdot.  They claim that it has flavors of blackberry, leather, candied licorice and hints of black pepper and violet.  Sounds really good to me!  The second is Lips, the God of the southwest wind.  This one we also did not taste, but is 100% Syrah aged in American oak, tasting of plum, cherry cola (huh?), cedar wood, tobacco and caramel.  Now based on that description I wish I had tasted it!  The third is Notus, God of the south wind, a blend of 60% Petit Verdot and 40% Syrah, $49.95 a bottle, rated an "A" by both my husband and me.  To sum Notus up, we bought a bottle (big deal for us as we don't usually spend that much on a bottle of wine….you can be sure that it will be saved for a special occasion where we can truly enjoy every sip!).  Finally, Iapyx, God of the northwest wind, is a desert wine made of late harvest Pinot Grigio.  They describe it as flavors of apricot, clover honey, and hint of cinnamon.  I described it as an "A" but Tom Joe described it as a "D".  Different strokes!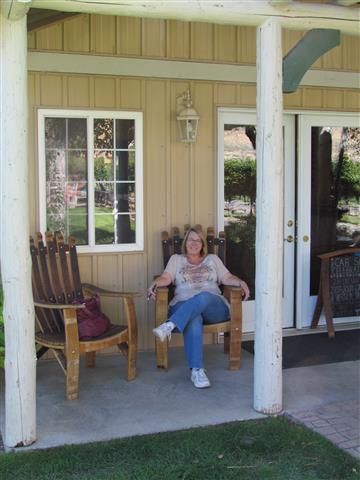 That pretty much sums up our 2+ hour visit at Canyon Winds Cellars.  Based on my story, do you think I recommend a visit?!  Well, let's just say that I think you would really miss out on a tremendous experience all the way around if you pass on this one.  If you do go visit, please tell them that you heard about them from The Vineyard Trail and come back here and leave a comment.  Or if you have visited in the past, tell me your experience!  I'm curious if others have had the same wonderful experience.  Until next time!
Cheers!
Miki "This is the Life" Winer
See the official VT Review: