Stop 2 of 3 on Oklahoma Frontier Country Wine Trail
Date of visit: 2013-08-03
Winery Scenery
The government not withstanding, this is a great vineyard and winery to visit!  And it's just outside of Oklahoma City! (Okay, there's a few closer to the city, but if you're a visiting winer or a local, this is a MUST visit winery!)
The interesting thing you first see as you pull into this winery is how they parceled up the vineyards.  There is a diagonal "gap" allowing a small section to be isolated near the road. As it turns out, the government has "purchased" the land (can someone say "eminent domain").   Since they aren't using all the purchased land currently, they created a demarcation zone so that they can easily identify which section of the land belongs to them and  therefore, can use it later on.  End result, after a few years, the winery STILL has a small patch of state land they are using! 🙂
The vineyards are cool! Long rows of vineyards, lush and green when we visited with a small open space right in the middle next to the winery or activities. You can sit on the patio under a towering tree and just relax, watch the kids play or just sink into the vineyards and unwind from a hard day's work.
Tasting Room Set-up
The tasting room was kinda small and the tasting bar would barely manage a large size group, so this was definitely a little disappointing to me. The rest of the room was spacious with wines and stuff to buy along the walls allowing ample room for mingling.
What was REALLY cool (and should be at all wineries, IMHO) is that they had a bunch of grapes sitting on the counter for winers to taste!  They were bitter, but a WAY COOL learning experience! Tasting the wine that came from those specific grapes, you can see the before & after and get a feel for the production process.
Tasting Room Hosts
By far, one of the best learning experiences we've had in Oklahoma! Our tasting room hosts were Gene, owner & vintner, and Taryn, local celebrity and proud owner of the wine label bearing her name… and also Gene's grand daughter!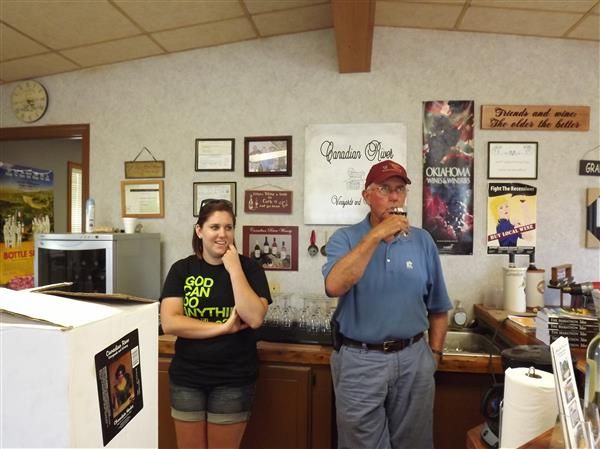 Gene was amazing and very generous in sharing his history and knowledge of the grapes, wines and general "goings-on" in the wine industry. It is obvious in demeanor and attention that he is definitely working his passion for the last 25 years and enjoying every minute of it.
Wines
Chocolate Merlot??? Who in the world would EVER purchase this wine?! Well, I guess just about everyone that visits, AND China! Looks like an international wine broker put in a huge order for Chinese outlets for the Chocolate Merlot.  The winery is having to ramp up production to meet this demand.
[table "x" not found /]

DNT = Did not taste
Tours
I personally did not go on a tour, but the wife went back during harvest and took the following pictures!
My Rating for this Winery
I am rating this
since Gene was so passionate about the industry and his wines and we garnered so much information, both cerebrally and gastronomically!!
See the official VT Review:
Stop by and have a taste of the Chocolate Merlot and let me know your thoughts.  I think that it does a DISSERVICE to wine and should be considered a "candy-wine" myself, but I may be the only dissenter in this regards!
Drink Wine – Drink Wisely!