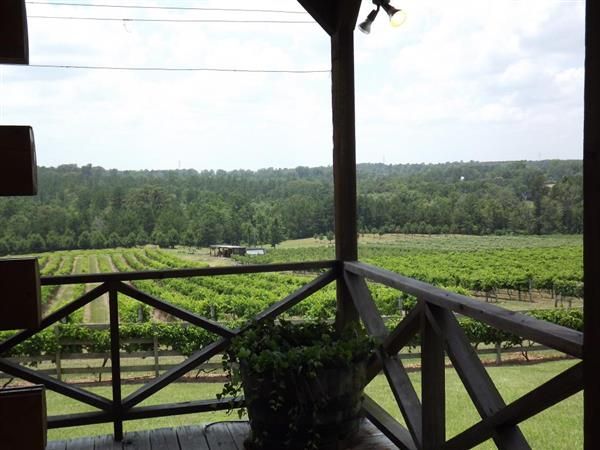 This was the gem of the Piney Woods Wine Trail!  And it started right from the very beginning.
Grounds/Scenery:  Immediately upon driving onto the Enoch's Stomp property the beauty surrounded you!  A lake, trees, rather big hill with many mature vines.  This is definitely not a small Texas vineyard! Amazing views from the restaurant deck!
Ambiance: Warm and welcoming!  From the drive up the hill to their facilities, to the style in the tasting room, and the restaurant decor and views, it made me want to stay there for the rest of the day.
Presentation:  This must be a "thing" on this trail, because out of three wineries visited this trip, two of them were "tasting via flight at your private tablet".  If you read my previous blog, Los Pinos Ranch Vineyards, you already know this isn't my preferred method of tasting.  Needless to say, when I was told to find a table I was a bit disappointed.  However, this didn't last long!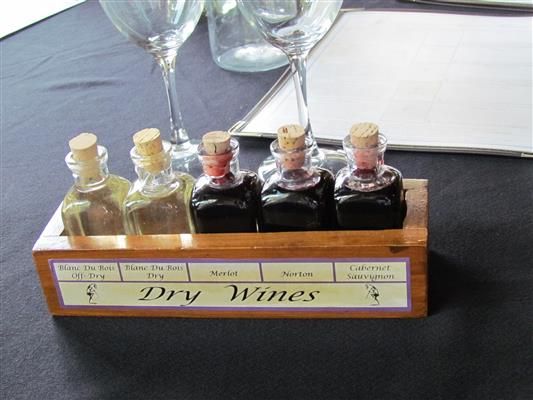 Customer Service:  Our pourer, Marla, WAS our experience!  Marla brought the flights to our table and offered small chit chat.  As she was walking away and the conversation between us continued, she pulled out a chair to sit at a neighboring table.  Of course we couldn't have that!  We asked her to come join us and then we were "off to the races"!  What a fun, fun person!  Apparently, Marla runs the tasting room and has been there since they opened the winery.  One of the owners, Altus, was coming in from the field, doing whatever it is that grape growers do, and Marla quickly ran outside and waved him in.  What a treat it was for Altus to take the time to come meet us and chat a moment, and for Marla to orchestrate the meeting.  Great customer service is what I call that!
Technical Knowledge:  Marla definitely knew about the vineyard and winery from its beginning.  She also told us the history of Altus, in that he is from South Africa and has family history in the wine industry for several generations.  And for me, this was apparent  very quickly through the quality of the wine.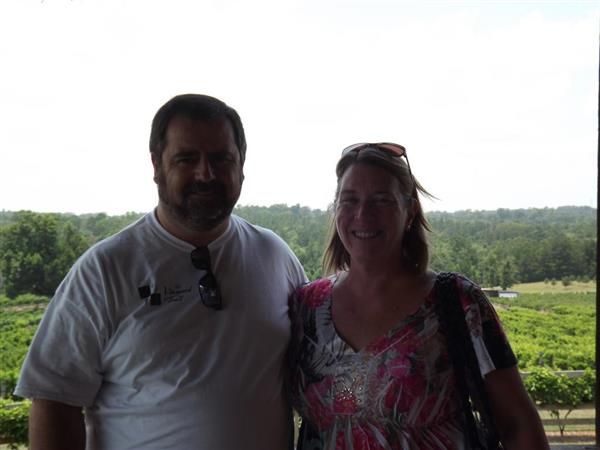 Quality:  So many great wines, so little time!  I was VERY impressed, both with the quality and price!  I had several favorites and thank goodness they were very similar to my husband's too (if not, that can really start a fight when putting together a case….just kidding!).  Blanc DeBois Off-Dry ($14), Susan's Secret (blush, $14), Merlot ($21), Norton (loved the smoke taste!, $21), Cabernet ($21).  Loved them all so much that we bought a case of this assortment.  And the interesting piece for me is that I typically don't care for blush or Merlot, but these were good!
General Comments:  Unfortunately, we didn't get to experience the restaurant because we visited on a Sunday and they are only open on Friday and Saturday.  No issues though…gives us a reason to go back!  This one is DEFINITELY worth a second (and third, and fourth…) visit.  See you soon, Marla!
Cheers!
Miki "This is the Life" Winer