My wife and I visited Austin, TX twice, specifically for wine trailing… and, based on this experience, we had high expectations for the Piney Woods Wine Trail. We were truly disappointed to a degree that going back and visiting some of the wineries we missed may not be a high priority.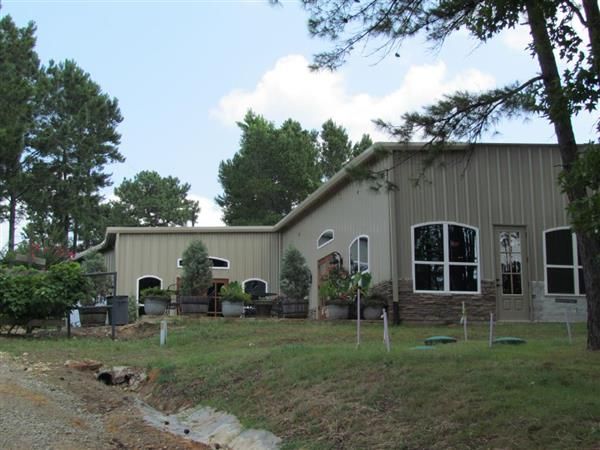 However, the Enoch Stomp Vineyard and Winery met and EXCEEDED our expectations of a winery. We even wanted to change the "Piney Woods Wine Trail" to the "Enoch Stomp Wine Trail". It is clear that the owners not only know how to make wine, but are clearly living their passion and wanting to bring that passion to the local clientele.
Nestled on top of a hill, you drive through a fence that has vines (with grapes) growing through the length of the fence, through a curved road passing vineyards giving you this wonderful feeling that you're about to experience something special. Every wonderful event needs a beginning, a middle and an end – this "beginning" set the stage for a wonderful wine experience!
The parking was just below the tasting room, so it is a little walk (well at least for someone with my physique) to get back up, but the encompassing views were worth every minute! Altus, one of the owners, picked an awesome place to build a winery. Off to the side was a new lodge that was built for lunch & dinners and it was gorgeous… and also provided ample opportunity for more picturesque photos!
The tasting room was created at the entry way of old horse stables… and the old barn wall separating the tasting room from the winery makes an impressive backdrop for the wine bar!
So, when the middle portion of the experience was about to begin, for me, there was a momentary flash of disappointment… as we were handed a little tray of 5 tasting "bottles" and directed to a table. For those of you that have visited California, the "standard" is to approach a bar (of some sorts) where the wine pourer pours a touch of each wine for you to taste.[pullquote]We want our winers chomping at the bit to get to the next winery![/pullquote]
The importance of this method of tasting is that the pourer normally goes off on a spiel explaining the winery, the wine they are pouring and generally answering any questions you may have. This is an important social aspect of a wine trail that we want to provide to our readers; sitting at a table reading the wine pedigree and tasting notes (while great for bringing home with you) is not what we want our readers to experience – we want an educational and social experience that literally has them chomping at the bit to get to the next winery.
A dog, seeing someone new, bounds towards and meets a friend for life… a cat, however, stalks their new company and slyly slinks over and nuzzles up to them – meet our wine pourer, Marla!
Marla was an absolute delight, and talk about a passion for "her" winery – and yes, there may be "owners" on the legal document – but Marla manages this winery like it was her own! Her experience on getting into the wine business was sentimental and endearing, but it is her acquired knowledge over the years, her thoughts for the future and her existing marketing exploits into the local community which made for a "VT Wine Experience".
Grounds/Scenery:  A true vineyard that has a winery… with surrounding hills and ponds that makes this winery a must visit for everyone.
Ambiance:  Though relatively new and still building (not that we think it needs much more added), the place enthused quality and personality. You feel at home as you walk through the doors (unless you meet Melissa – but that is another story!)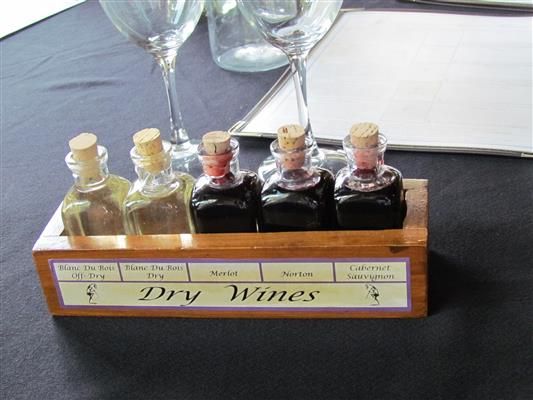 Presentation:  This was the lone "dull" point where we're given a a tray with 5 portions of the wine tasting. This appears to be consistent with the wineries in the near-Dallas area (at least 2 of the 3 wineries we managed to visit) so it is nothing against this winery but in the trend overall. It seems to diminish the social aspect of the experience.
Customer Service:  One can only wish for Marla to work everywhere for everyone! There would never be a complaint and people will leave happy. Now, remember our Melissa above in ambiance? The M&M team do not normally work together as Marla is the Winery person and Melissa is the Chef, and I think that the owners built the Lodge to keep the two separated! The back & forth banter made me reminisce of Ireland (but being 1 of 11 siblings I quickly pushed those thoughts back into the memory recesses) and made for a lively and entertaining afternoon. Having a great team like Marla & Melissa can only make the owners' job so much easier.
Technical Knowledge:  I was busy running in and out trying to capture a picture of a Humming Bird who kept seeing me coming, so I did not get to ask the probing questions that I'd like to to challenge the pourer… though what I remember, Marla did really good!
Quality:  Hmm… we brought a variety case… enough said! Okay, maybe not enough information for some people, so the labeling was great (I love a consistent brand!) and the quality of wine above par. I would say that this is one of the better wineries we've visited in Texas so far!
General Comments:  For me, the key to a good wine experience is if the people can put up with me and I receive a great wine experience… I test them with my personality (which may be laced with a touch of dry sarcasm) and their reaction speaks wonders about how they manage their lives, thus their jobs… and Marla (ok… and Melissa, too – but i expect a photo-op next time we're there!) did an excellent job at representing Enoch Stomp and the wine industry at large.
Drink wine – drink wisely! 
Leave a comment if you've visited Enoch's Stomp Vineyard & Winery and if you agree (or disagree) with anything I've said… remember – I only cry in private so pretend you haven't hurt my feelings!