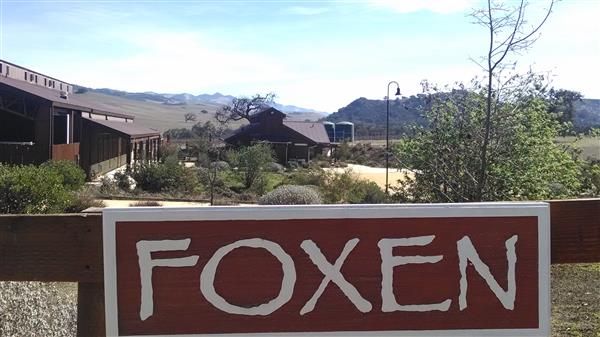 Foxen Vineyard (both of them) is located on the beautifully winding Foxen Canyon Road, Santa Maria, California.  It is another of the gems that we found on this spectacular drive just inland from the coast.  Two lanes and winding its way through the hills that make up the canyon, it is lined with cattle, horses and vines.
Interesting bit of history here.  1837: The place is originally part of a Spanish land grant that caught the eye of an English merchant captain, one William Benjamin Foxen.  (Probably had an eye opening experience going around Cape Horn on one trip and was thinking that Neptune had plans for him.)  He came ashore after one trip and started looking for a place out of the tridents reach.  Story is that he met and fell in love with a daughter of the Caballero who controlled the land and married her in 1840.  Ah, love (or opportunity).   Ain't it great?  But, to keep in touch with his sea going roots he adopted as his brand the symbol found on his ships, hips, kegs and bottles: the anchor.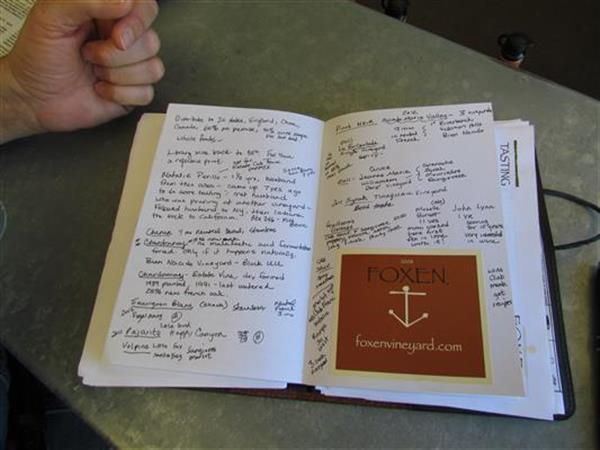 Okay, enough.  Foxen Vineyards is actually two tasting rooms and one vineyard: the main one with the winery all shiny and new,where we started and, just down the road at the original home site.  The new one is an impressive facility with warehouses for the kegs of juice turning to wine and the cases waiting their fate.  The tasting room is airy and has so much room that there is an attached kitchen area for the staff  and an outside patio overlooking the vines.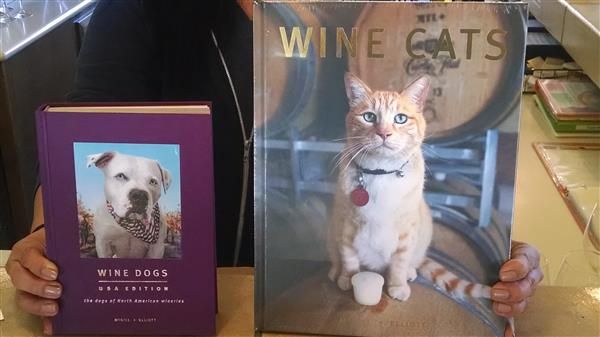 It is simply and beautifully landscaped with plenty of room for the vineyard cats to hide and lounge about.  Every place we have been to has had dogs, but originally, Foxen has cats.  And their book.  Lots of 'here kitty' going on as I am a cat lover.  I am also wise in the ways of Bastets children and know 'the look'.  You know, 'Go ahead pet me.  If you really think its a good idea.'  THAT one.
We got down to the business of the day and started in by meeting up with our hostess, Natalie.  She is the one who laid out all the history of the place and did a splendid job of answering our many questions.  We found out that the two tasting rooms offer different styles of wine.  The new one is all about Burgundy and Rhone, while the other (referred to as '7200') serves up Bordeaux and Italian varietals.  This came out after I requested to taste this or that red and was told, 'Sorry, only at 7200'.  (Grrrr!  I want what I want when I wants it.)
So this is what comes of not paying attention at the tasting bar, we started in on the whites. (Sigh)  The best of the bunch was the Chardonnay with grapes from the Tinaquaic Vineyard.  Lots of tropical fruits gave it a tantalizing South Pacific bouquet with a hint, a touch, a butterfly kiss of vanilla.  It had a smooth and silky feel on the tongue with very, very little acidity.  All the Winers gave it high marks.
The Cuvee Jeanne Marie (named for one of the vintners mother) from the Williamson-Dore Vineyard was another one getting the high marks.  Lovely scent with excellent clear color.  It was wonderfully smooth on the tongue.  I found it just right for dryness, not too but just enough.
Two more winners: The Chardonnay, Block UU of the Nacido Vineyard had a fabulous fruity bouquet with an excellent creamy taste.  I only picked up a slight acidity on the back of the tongue; The Chenin Blanc 'Old Vines', from the Ernesto Wickenden Vineyard.  Crisp and clean with a mildly dry taste.  What I would call an easy drinking wine.  You know, all of the whites were pretty damn good and I wouldn't turn down a Foxen if you happened to offer one to me.
The reds were next on the hit parade.  The Syrah, Tinaquaic Vineyard, lead the march.  It had a good dark red color that I personally look for.  A strong wine with heady scents of pepper, licorice and cinnamon.  I think it would go great with a dry cheese, maybe  a Dubliner, and some good salami.   We also waded into the Pinot Noir, two varieties actually, and they were both terrific.  Great color and bouquet with a dry fruity flavor.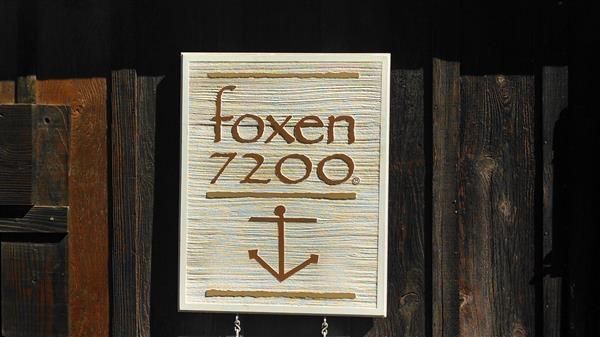 We made our way to '7200' and got a look at the original property.  Family still lives there and keeps an eye on the cattle and horses.  The place, with the exception of the family residence, had that run down old ranch look to it.  Old board fences that had seen better days, trucks and tractors with some serious use showing and lots of mature trees.  The original tasting room had been the blacksmiths shop but I don't imagine the current one room shack was that work place.  Old?  Oh yes, but not close to 175 years old.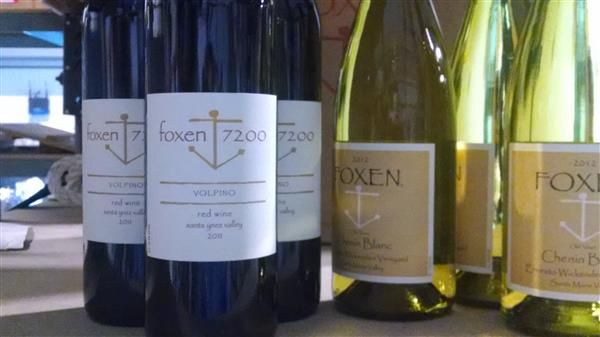 Here at '7200' is where we got a taste of Foxens Volpino (little fox in Italian) and it was just wonderful.  I would have voted for several tastings of this one particular red if we were a democratic group.  It was a combination of Sangiovese and Merlot which resulted in that rich dark color I so love to see in my glass.  Elizabeth and I were both so impressed we purchased a bit of this one.  Good color, great flavor.  Looks really good in my rack right now.  We also sampled another Sauvignon Blanc that was great but came in behind (surprise) the Vopino.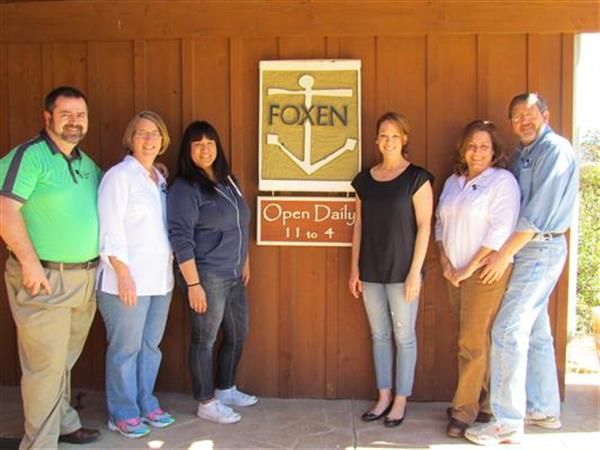 New Foxen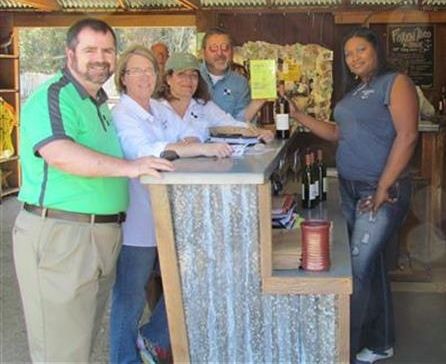 Foxen '7200'
Foxen Vineyard.  Man, I could go on about this place for a few more paragraphs, but the others had wit and observations that have to have a place too.  Many sharp emails if I get too wordy.  This place was really unique in its display of both the old and new at two different tasting rooms within perhaps two miles of each other.  I would recommend a visit to this one without hesitation.  Matter of fact, I would meet you there if I was in the area because I would surly go.
Enough damage here, my friends.  Off we go to visit other villages and spread the word.  Check out what the other Winers have written about this and other places we have been.  Don't forget this is just my own opinion, go see them and sample their wares.  I can take it if you need to point out that I have all my taste in my shoe. (My other job has counseling available to me).  Come find us and share a glass or two.  Bring your opinions.  I'll be looking for you over the rim.
See the official VT Review:
My personal rant: