Stop 1 of 3 on Oklahoma Frontier Country Wine Trail
Date of visit: 2013-08-03
Winery Scenery
On top of the only mound in Oklahoma you can find the Legends Vineyard & Winery. An amazing panoramic view, even for Oklahoma! The vineyards were green, with a gazebo out back, the place was accented with wine barrels, creating a stunningly visual making this trip worthwhile.
Though the winery & tasting room is located in a simple, rectangular building, the ambiance is enhanced by a trellis built at the entrance and a patio created to the side. Near the building is another large open structure that looked like an area for a barn dance – except it is not a barn, there are no walls, and currently there's a BOAT residing under the structure!
Tasting Room Set-up
The owners, Debbie & Bob Sirpless, obviously took a lot of time and effort to make this a memorable experience for trailers making their way all the way out here. Murals were on all the walls depicting a Tuscany landscape, and the dark woodwork was a great accent for the light colored walls & ceilings.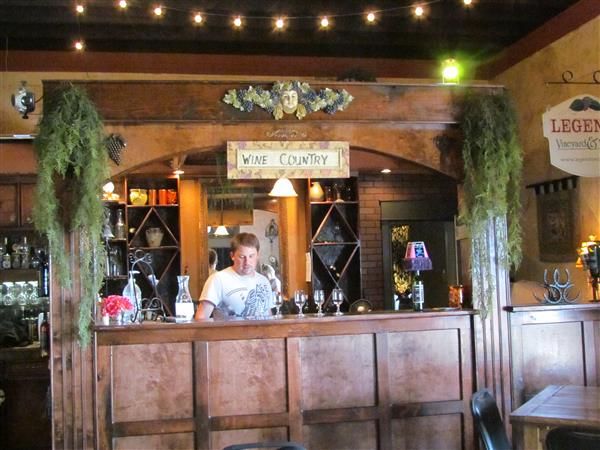 The tasting bar was AWESOME, yet it was also one of the "downer" points of the tasting room. The design was remarkable for the small area and it was built as a "showpiece".  However, it was small and two large poles took even more real estate, limiting the tastings at the bar to one, maybe 2 groups. The tables in the rest of the room prevented mingling, but they did support other activities.
The key to sustaining a local business, and this winery is no exception, is getting involved and entertaining in more than one area. Monthly, this winery hosts a "Murder Mystery Dinner Party" as well as other seasonal activities like a Haunted House, Christmas Potluck Dinner and New Years Eve party.  These are great options to provide people to get away once or twice a month.
Tasting Room Hosts
Our tasting room host was Thomas, the son of a friend of the owners! I love it when we meet friends and neighbours and other patrons that come to lend a hand.  It shows the owners and winery are held in high esteem.
Though not the technical wine savant that I am looking for, Thomas won me over with his affable nature and attention to detail. He followed the wine tasting card and even washed the glasses out after each tasting (though I would not normally recommend that, myself!!)
Wines
Gooseberry wine?! SHEESH! Get that one out of the way and you'll find a few okay wines, and 2 exceptional wines!
| TJ Ratings | Label | Wine | Grape | Tasting Card Description |
| --- | --- | --- | --- | --- |
| C | | Sandstone Red | - | - |
| B | | White Muscadine | Muscadine | The welcoming charm of Muscadine wine comes from the Muscadine grape. The result is a wine that is velvety and smooth with a wonderful floral, spicy aroma. |
| E | | Gooseberry | Fruits | - |
| C | | White Zinfandel | Zinfandel | White Zinfandel is made from a sweet dark-skinned grape and is related to the Primitovo of Italy. This grape is fruity and aromatic and ages well in new or old oak. Zinfandel is sweeter than Primotovo and abounds with a raspberry, sometimes porty flavor. |
| C | | Concord | Concord | The Concord grape is a large blue fruit that is very sweet and acidic. Fruity and aromatic, this grape ages well in new or old oak and when blended, will add fullness to wines and wine jellies. |
| A | | Cappucetto Rosso | Merlot, Cabernet Sauvignon | Cappucetto Rosso, which means "Little Red Riding Hood" will be a sweet wine made from a blend of Merlot and Cabernet Sauvignon. |
| A | | Merlot | Merlot | Merlot makes the most expensive wines of the hardy varieties. This black skinned grape has green flesh that keeps well and ages well in new or old oak. This citric and aromatic grape can be made dry or sweet. |
DNT = Did not taste
Tours
Thomas did take us on a brief tour of the winery itself where we saw the fermenting drums and got a feel for this small boutique winery.
My Rating for this Winery
I am rating this
since the tasting bar was not as "friendly" for wine tasting after first glance. My biggest complaint is that this is a cash-only winery – no credit cards currently accepted… why?! This would be a huge disappointment for winers coming in, just to find out that they cannot purchase a bottle of there favorite wine because they didn't bring cash. However, the Tuscan style and outside scenery is definitely worth the trip out here (but remember to stop at the ATM before leaving the city!)
See the official VT Review:
I need y'all to visit this winery and let me know if they accept credit cards yet – and if they still don't, COMPLAIN LOUDLY!!! Okay… maybe not that loud, but make sure that they know that TJ considers this a "pet-peeve"!
Drink Wine – Drink Wisely!