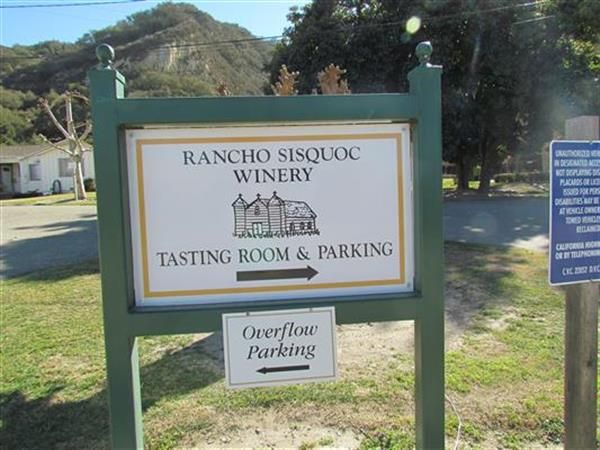 Rancho Sisquoc Winery, Santa Maria, California, is located on the beautifully winding Foxen Canyon road.  We drove through miles of vineyards that belonged to several other vineyards in the area besides Rancho Sisquoc, but the sheer size of the acreage involved was stunning.  Rolling hills, lots of vines, a beautiful sunny day with the possibility of fabulous wine at the end.  Now THAT is being on the Trail.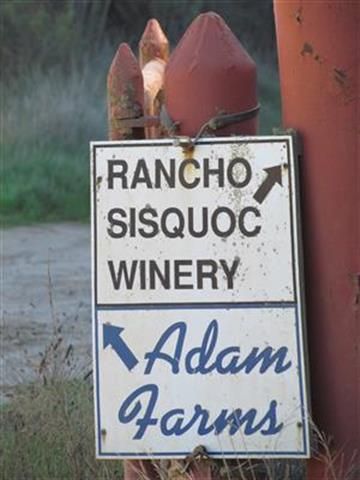 This is all farm and ranch country so the result is lots of itty bitty road signs that may or may not be hanging in the right place. Turn right and you find your way to the good stuff but, turn left and you may be filling out an application as a seasonal picker.  Eventually we found our way to the Road to Rancho Sisquoc (Ah Bob and Bing, I miss you), after some tricky navigating by the intrepid and ever adventurous Tom Joe (plenty of Peanut Gallery action from the rear also).
Rancho Sisquoc is an enormous place, close to 40,000 acres I heard (644 to the square mile, math makes my eyes ache), one of the largest working ranchos in the state. Guy named James Flood bought the ranch in 1952 and decided that the area was going to produce some good wines and, 16 years later put in some vines.  Now there are 310 acres of vines with a bit of land left over for cattle and horses.
The tasting room is in an appropriately ranch looking building (weathered clapboard) and an extraordinary amount of space set out for people to sample the wines and enjoy whatever festivities were going on at the time.  The building is surrounded by tree'd bluffs and assorted ranch 'stuff'.  Very inviting setting with lots of tables and  chairs.
The wine tasting FINALLY got underway after we met our hostess Alice, who had been the tasting room hostess for two years.  She was the one that told us about the property and that the vineyard produces 35 acres of grape for the winery and the rest is sold off to other places.  Out of that 35 acres, they get about 20,000 cases of wine.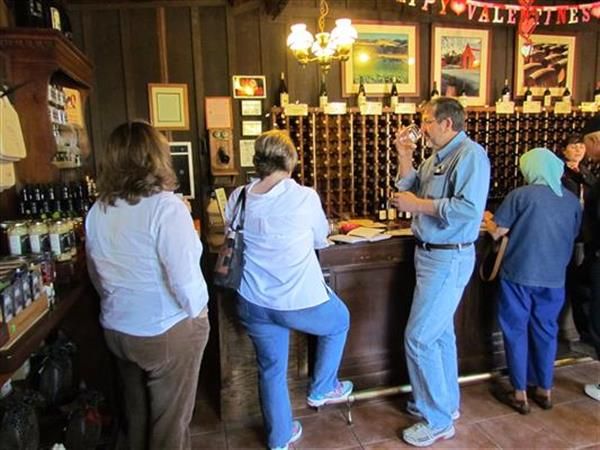 The tasting room itself was rather small but an interesting setup with a bar that included a brass rail (as it should) for the foot.  It wasn't too crowded with 'stuff' and had plenty of room to wander and still get six or eight people at the bar.  One of the items I was taken with was a large old fashioned ice box that had been converted into a storage cabinet for dry goods (cans and jars) and wine.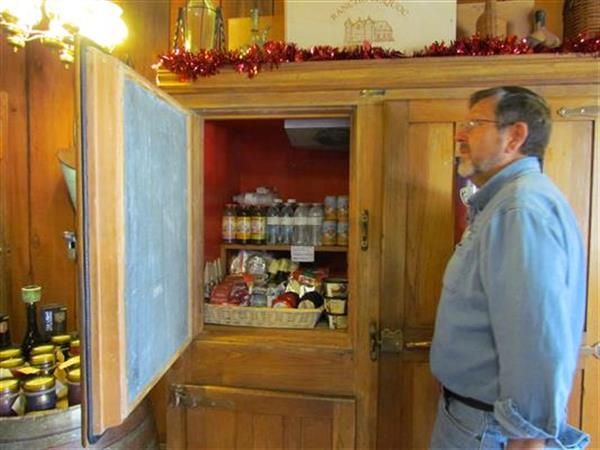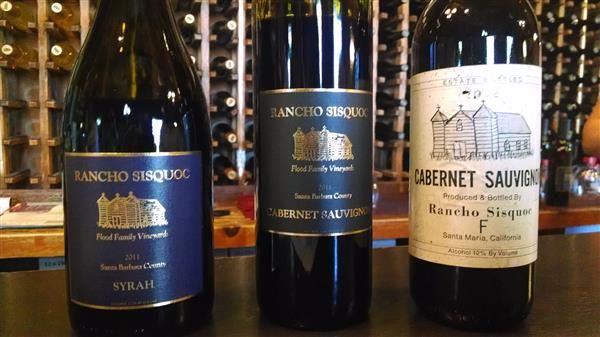 We tried a variety of reds starting with the Sisquoc River Red which was a bastard blend of left over reds and is consequently a new surprise every year.  THIS year we sampled a rich red wine with good strong flavor that I personally think is great.  Elizabeth and I favored the Syrah with its ruby color and lack of overpowering spices and oak.  I would have bought a couple but you know, damned budget and all.  The Cabernet Sauvignon was a pleasure with both a smooth start and smooth finish.  Miki (the Nose) and I both picked up the strangest scent of green peppers, of all things.
The whites were very good with the Sylvaner being the shining star of the lot.  It was a light, anytime on a warm summer day kind of wine that had a terrific bouquet.  It smelled dry which had me on my guard but the taste?  Sweet, not acidic and wonderfully smooth.  Yum!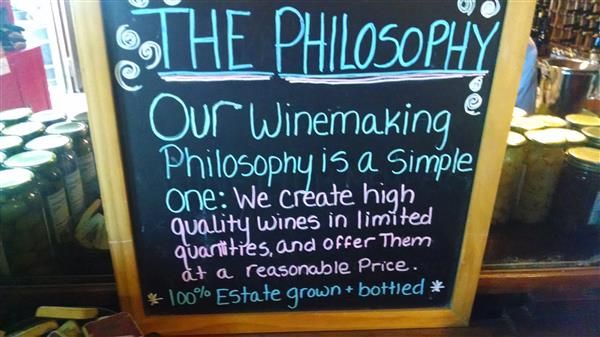 So then, Rancho Sisquoc Winery.  A lovely place to while away the afternoon with a glass of your pleasure.  You won't have wasted your time here, believe me.  You're going to find Alice to be both entertaining and informative.  I think they certainly live up to their philosophy.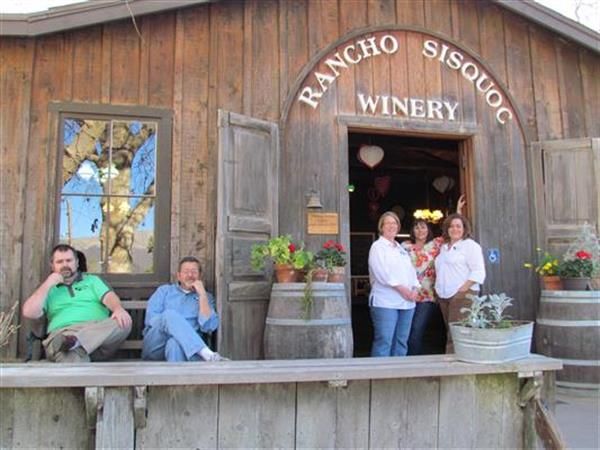 Well, we're off.  Where are we bound?  When will we get there?  How ever shall we find our way?  You know, I know the answer to all of those questions and more. Just chock FULL of UBOI's, am I.  When we get where we are going I hope to see you there.  I'll be looking for you over the rim.
See the official VT Review:
My personal rant: