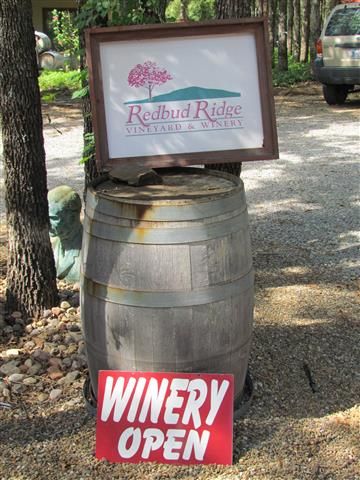 This vineyard visit had its peaks and valleys.  The most memorable part of this visit for me was the landscaping of the initial drive into the vineyard property.  It is very wooded and totally reminds me of when I would go camping with my parents as a kid.  Even with the red muddy lakes, Oklahoma has some great camping available (at least it does for those that can still tent camp – my bones can't take that any more!)
The other nice thing about Redbud Ridge Vineyard and Winery is its location.  It is just outside of Norman, Oklahoma so if you live in Oklahoma City or the surrounding area, in just a few minutes you can be there sipping away!
  Now for the wine tasting experience.  Well, this is where the peaks and valleys come in.  Unlike others in my party, I think the inside of the tasting room is just fine.  The tasting bar itself could be bigger and is difficult to fit many folks around, however I think the room space is adequate.  It is a bit dark in the room and does feel like an afterthought (all the wine making materials – barrels, hoses, etc. – are in the same room), but it isn't unpleasant.  One thing that was an issue was the feeling of being rushed through the process.  One of my most favorite things is to meet other wine-loving people and enjoy the experience together.  I guess I just need to realize that not all experiences and locations can be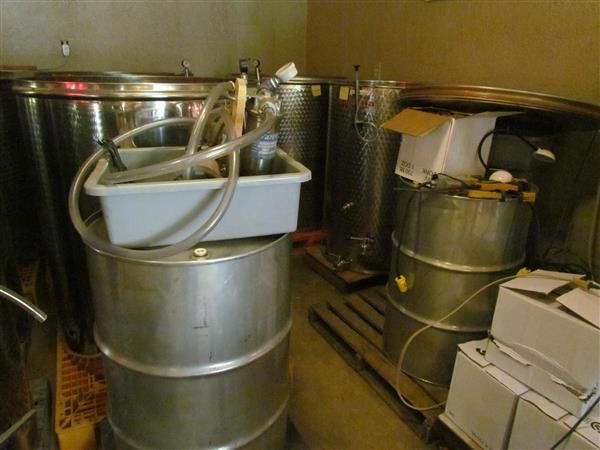 absolutely perfect in my mind.  I believe the reason for the rushing was because there were about 4-5 other people that were also waiting to taste but couldn't get up to the small bar.  As a consequence of rushing through the tasting, we were unable to spend the time getting to know the pourer/owner/vintner, Tom.  Maybe I'll drop by a different day right when Tom is opening and get to spend some quality 'get-to-know-you' time!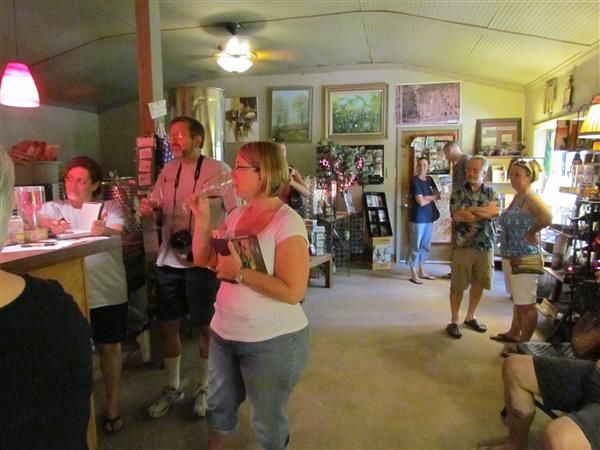 Having said all that, the wine was good!  There wasn't a lot to choose from (only 6 as per my tasting notes), but that was no reflection of the quality for my taste buds.  I rated them all between a 6 and 8.  And those are good ratings from me for most Oklahoma vineyards (I say that because many folks in Oklahoma like sweet wine so that tends to be what the wineries produce more of, and its just not my cup of tea).  We didn't purchase however, but I think that was simply because it felt rushed.  Maybe next time.  Definitely good enough to bring some home.
What I did learn is that Tom is an OU (Boomer Sooners!) fan – GO BIG RED!!! Tom also uses 100% Oklahoma grapes in his wine, however not only from his vineyard as he only has 2 acres of cab growing.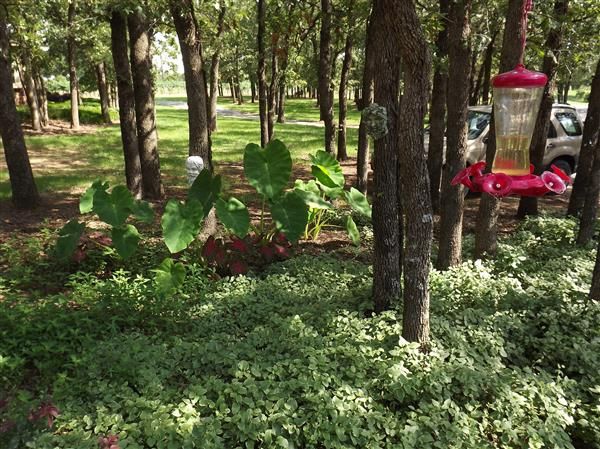 Although my experience was a toss-up, I highly encourage you to go for a visit and enjoy the campground scenery, good wine and Tom, with his dry sense of humor!  We were having such a fun time with the other tasters at the bar that he kept shouting, in a joking tone, "Pay attention folks!"  Made me laugh!
Don't forget to leave me your comments on your visit to Redbud Ridge!  I hope you convince me to go back and try it again!
Cheers!
Miki "This is the Life" Winer